15 Strongest Monster Cards In Yu-Gi-Oh! The Sacred Cards
The most powerful monsters in Yu-Gi-Oh! Some of the Sacred Cards have powerful powers on top of their high attack and defense. These are the most powerful!
The Yu-Gi-Oh! The Sacred Cards is a game for the Game Boy Advance. It came out on November 4, 2003, in North America. People remember it as a short game with a lot of great duels, which is the kind of thing that makes games in the popular Yu-Gi-Oh! series so fun.
The story is based on the anime's Battle City arc, in which Yugi and his friends take part in a Duel Monsters event held by KaibaCorp in the middle of a city. The game is fun to play and has a unique story that takes place in the past. Players can also get a lot of very powerful monster cards to use against the AI.
The best ones have huge Attack and Defense, and a few of them also have strong effects for when brute force isn't enough. These powerful creatures also come with cool card descriptions that explain more about their presence and story. This is a nice feature for people who like the long history of the franchise and the unique creatures it has created. The Egyptian God cards won't be included because you can only get them through story events and can't get them any other way.
Meteor B. Dragon – Attack 3500 | Defense 2000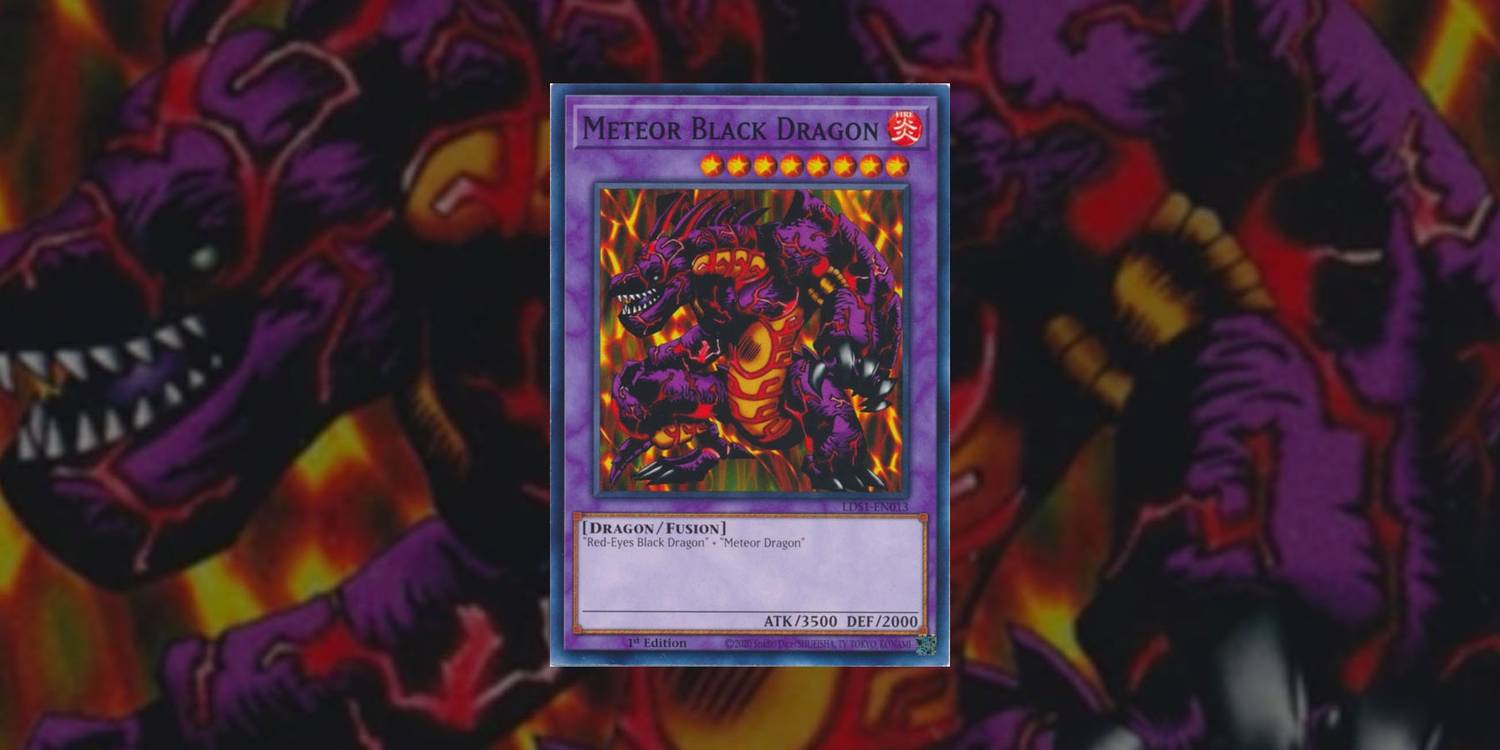 Meteor B. Dragon is a Yu-Gi-Oh! Monster Card that seems to be an evolution of Meteor Dragon. In terms of strength, it may be one of the strongest Monster Cards. Meteor B. Dragon is a powerful Normal Monster that can beat most other cards in its type. It has 3500 ATK and 2000 DEF. Meteor B. Dragon doesn't have any special effects, so it can be caught by enemy Traps. Players may want to protect Meteor B. Dragon from effects that kill Monsters.
Not only that, but its 8-Star Level means it only needs two tributes to Summon, which is the same amount of resources as Dark Magician and Blue-Eyes White Dragon, but it has better attacking power.
Perfectly Ultimate Great Moth – Attack 3500 | Defense 3000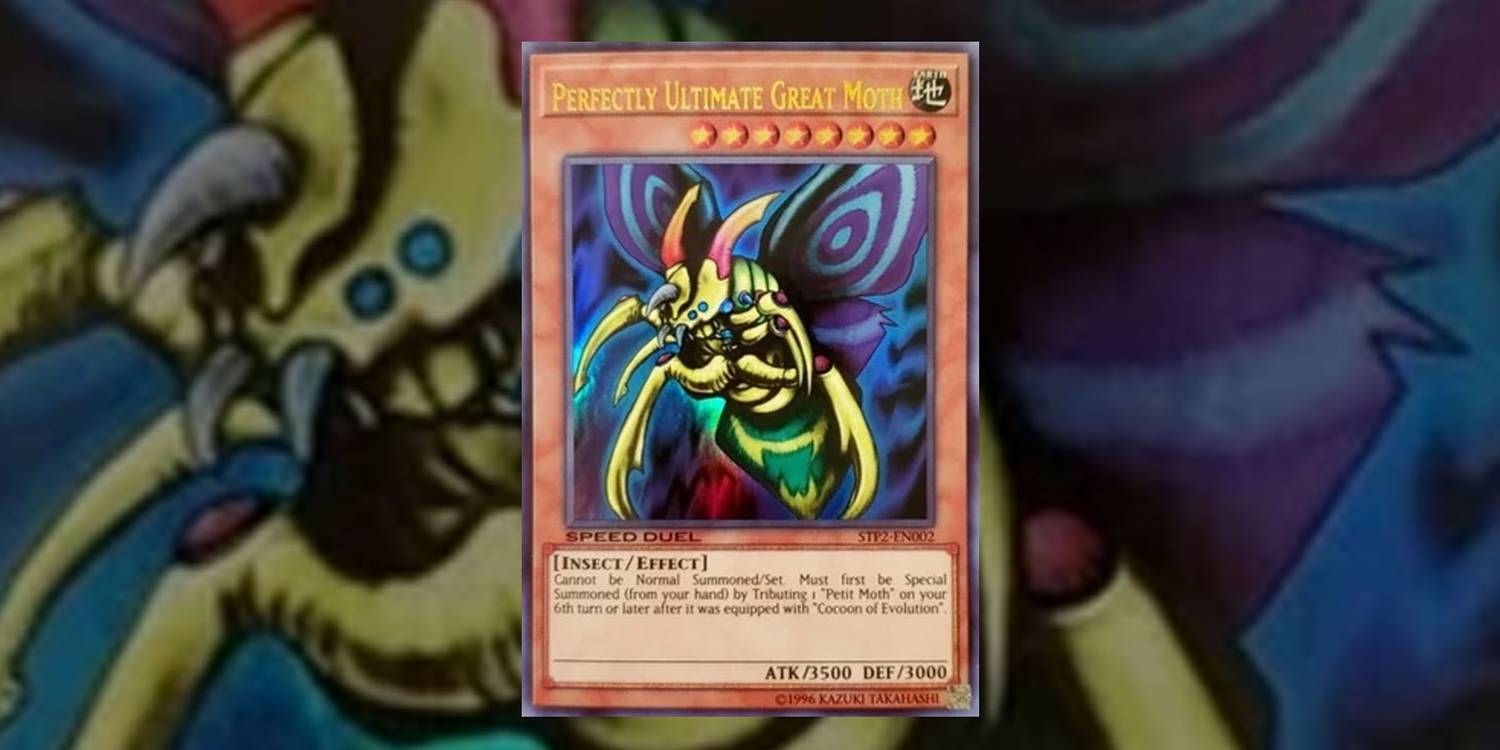 Perfectly Ultimate Great Mothis is one of the best Insect-Types in Yu-Gi-Oh!, and it's a must-have for any Insect deck that wants to go for pure attack. With 3500 ATK and 3000 DEF for just two attributes, it can easily beat most higher-level Monster Cards.
Not only that, but the game's special rules mean that Perfectly Ultimate Great Moth is not just a Normal Card that can be Summoned. If a player already has a Great Moth on the field, it can temporarily become a Perfectly Ultimate Great Moth by going a full turn without destroying it. This gives the player more ways to set up, unless the opponent is ready with a clever hand Trap to stop the player.
Obelisk The Tormentor – Attack 4000 | Defense 4000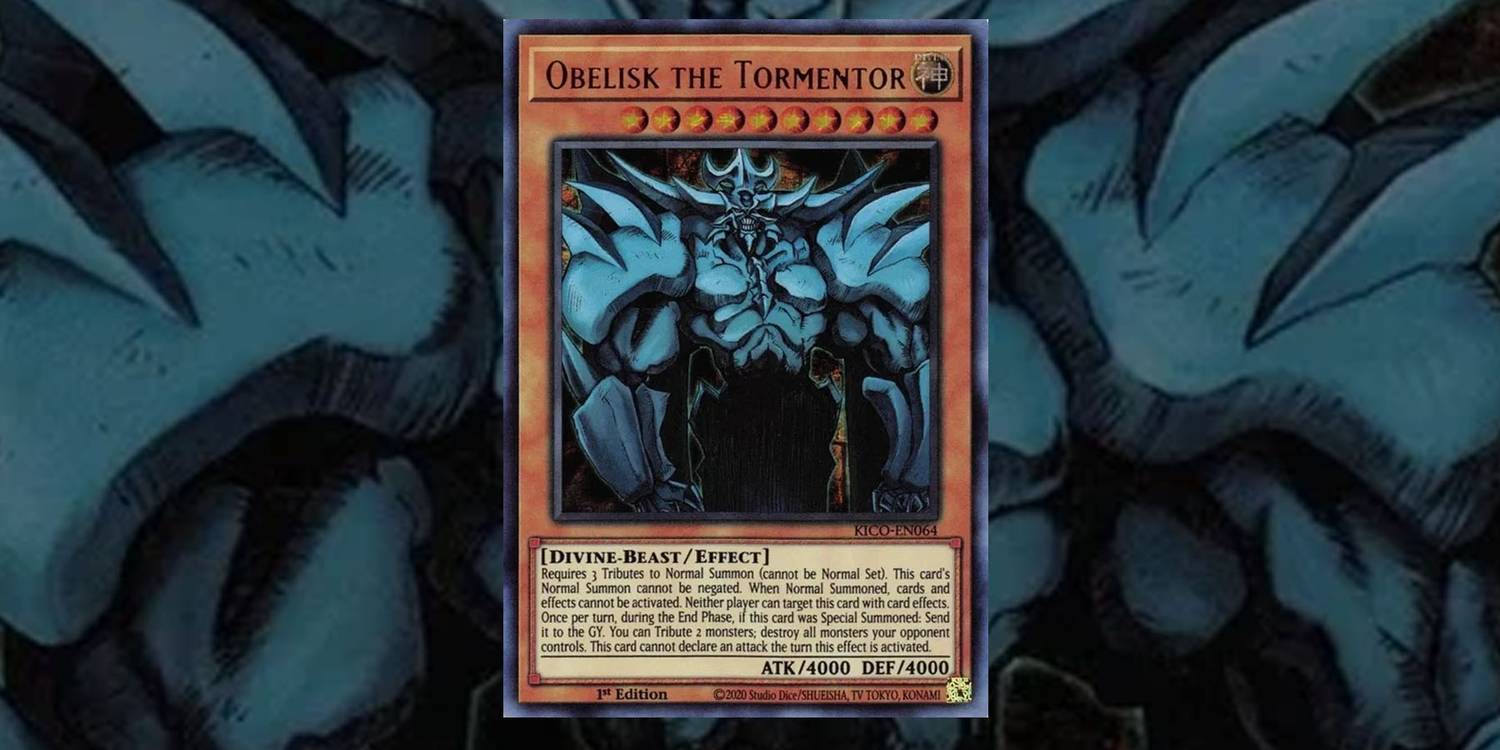 Seto Kaiba's most famous God Card is Obelisk The Tormentor, which is also a dangerous Monster Card in The Sacred Cards. After beating Seto Kaiba, players can get this Yu-Gi-Oh! card from Ishizu Ishtar, who gives them access to this blue-clad hero. Like most God Cards, the only way to Special Summon an Obelisk is to sacrifice three Monsters.
The impact of the Obelisk is what makes it such a powerful card for the player to have. When Obelisk is triggered, it does 4000 LP worth of direct damage and destroys every Monster on the enemy's field. Even though this card effect can only be used once, cutting in half the opponent's total LP should be enough to give you a permanent edge.
The Winged Dragon Of Ra – Attack 4000 | Defense 4000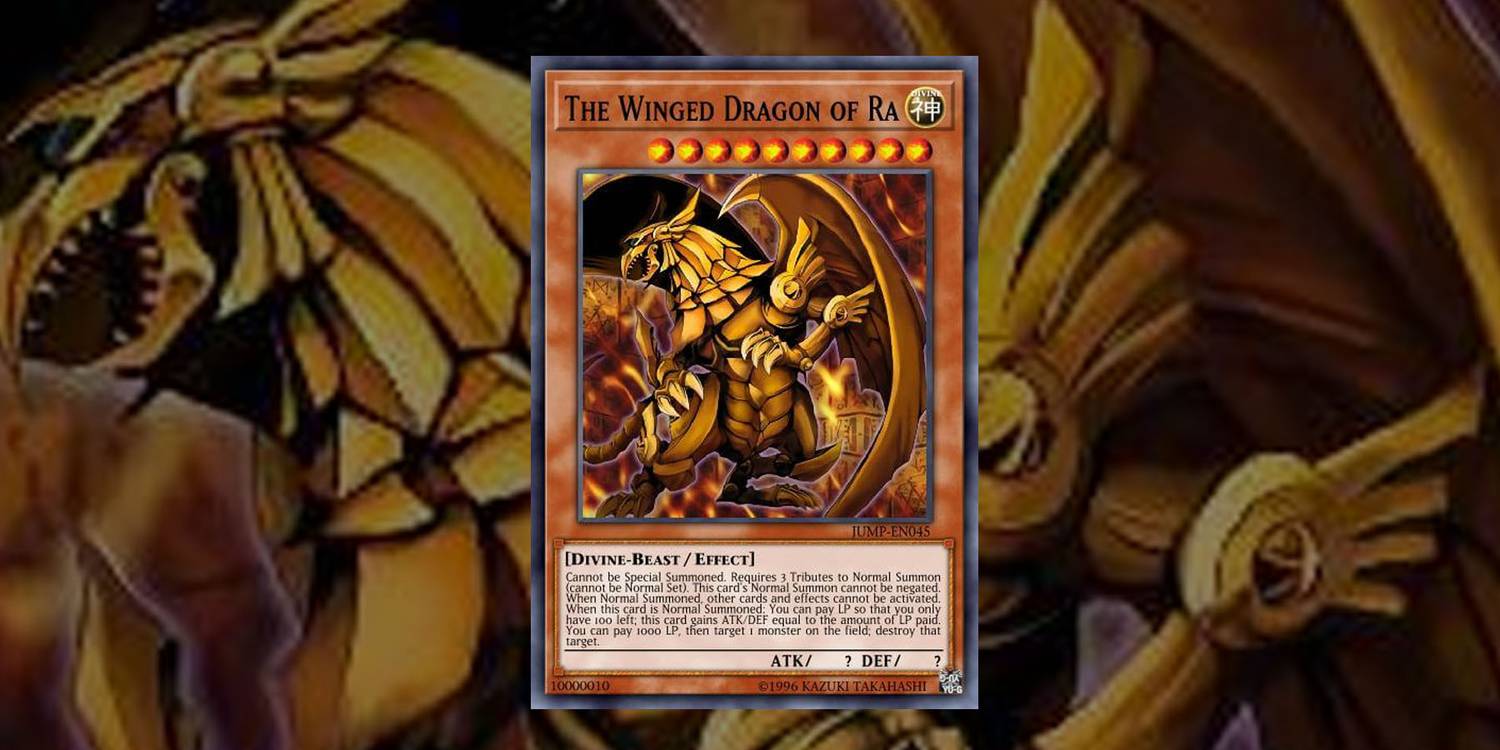 The Winged Dragon of Ra is Yami Marik's signature God Card in the anime. In The Sacred Cards, players can get it by beating the same character. The Winged Dragon can be Special Summoned by sacrificing three Monsters, just like its God Card counterparts. This is a worthwhile sacrifice, though, given what it does.
When the Winged Dragon of Ra is used, it brings the player's LP down to 1 and deals the same amount of damage to the opponent. In the best case, this means you can give up to 7999 LP worth of damage with a direct attack, which can be enough to kill an opponent with one hit.
Slifer The Sky Dragon – Attack 4000 | Defense 4000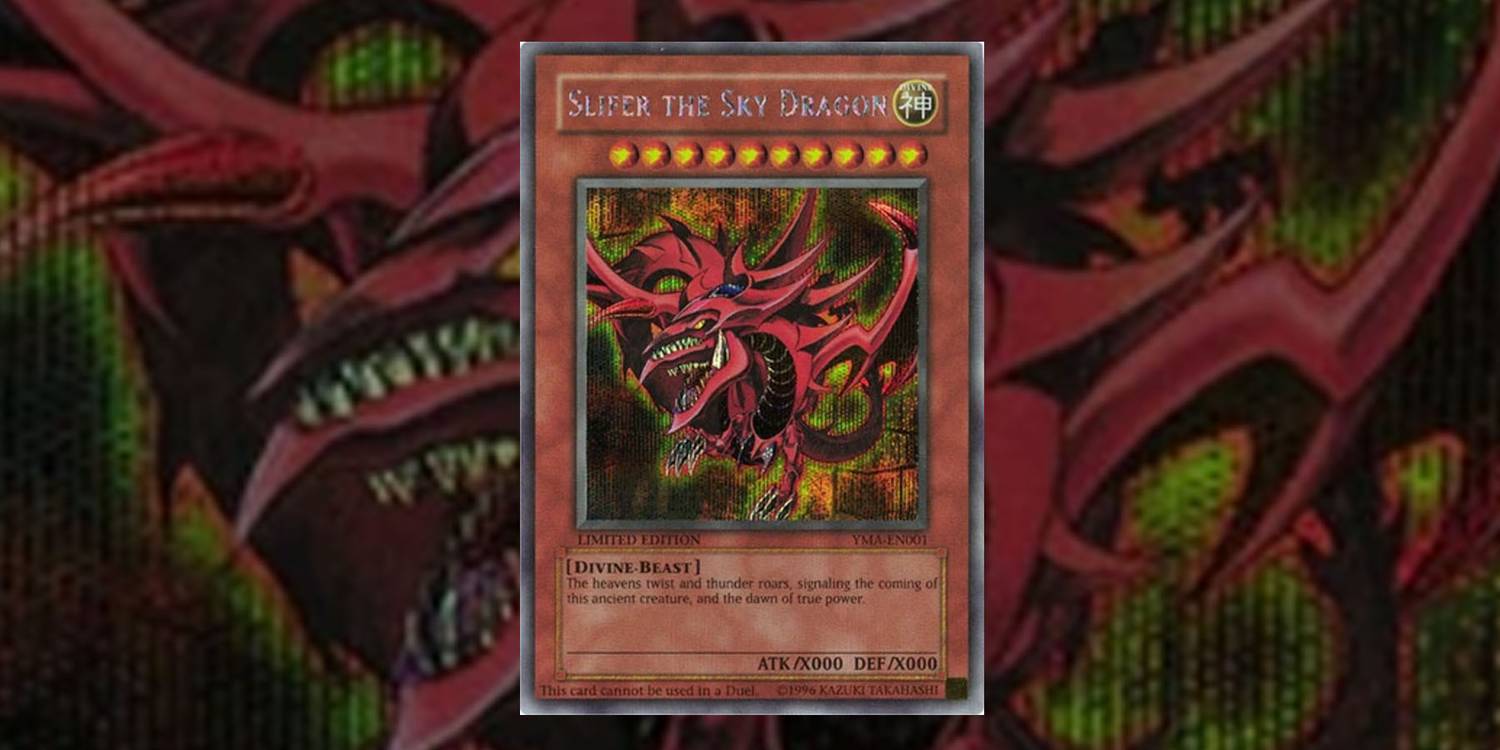 In the Yu-Gi-Oh! series, Slifer the Sky Dragon is known as Yugi Muto's signature God Card. In The Sacred Cards, it is still a powerful Monster. Like the other God Cards, players must sacrifice three Monsters in order to call this beast, which has a very powerful effect. When activated, Slifer gets 1500 ATK for each card in the player's hand. This lets players boost their strength by a lot without using Equip Cards.
With the right setup, Slifer's ATK can be raised to 8500 with just three more cards. This should be more than enough to deal with most other Monsters on the field. Since not many Monsters can even go up against Slifer's 4000 base ATK, it's safe to say that he can taunt his opponents without fear of being attacked until the players have enough cards in their hands to reach the ATK they want.
Dark Sage – Attack 2800 | Defense 3200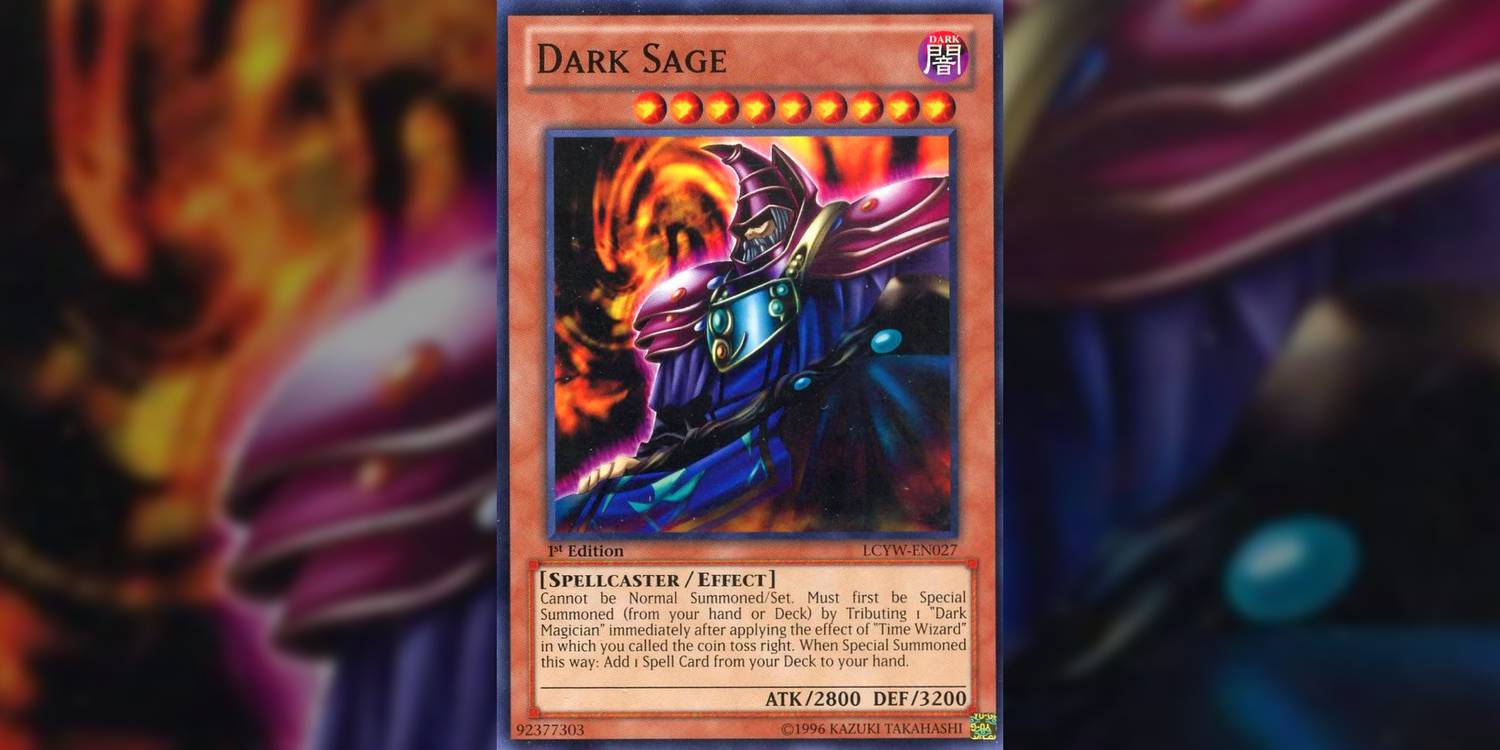 You can think of a Dark Sage as an evolved Dark Magician because their stats and powers are better. To call this elder Spellcaster, duelists must sacrifice a Dark Magician right after resolving the effect of Time Wizard, in which one predicted the correct result of a coin toss. Even though Dark Sage is a very situational card, players can call it from their deck.
Players should try to get cards that can change the result of coin flips or be used as a back-up plan if they guess the wrong effect of Time Wizard. For this, you could do a lot of good with trap cards that stop damage.
Cosmo Queen – Attack 2900 | Defense 2450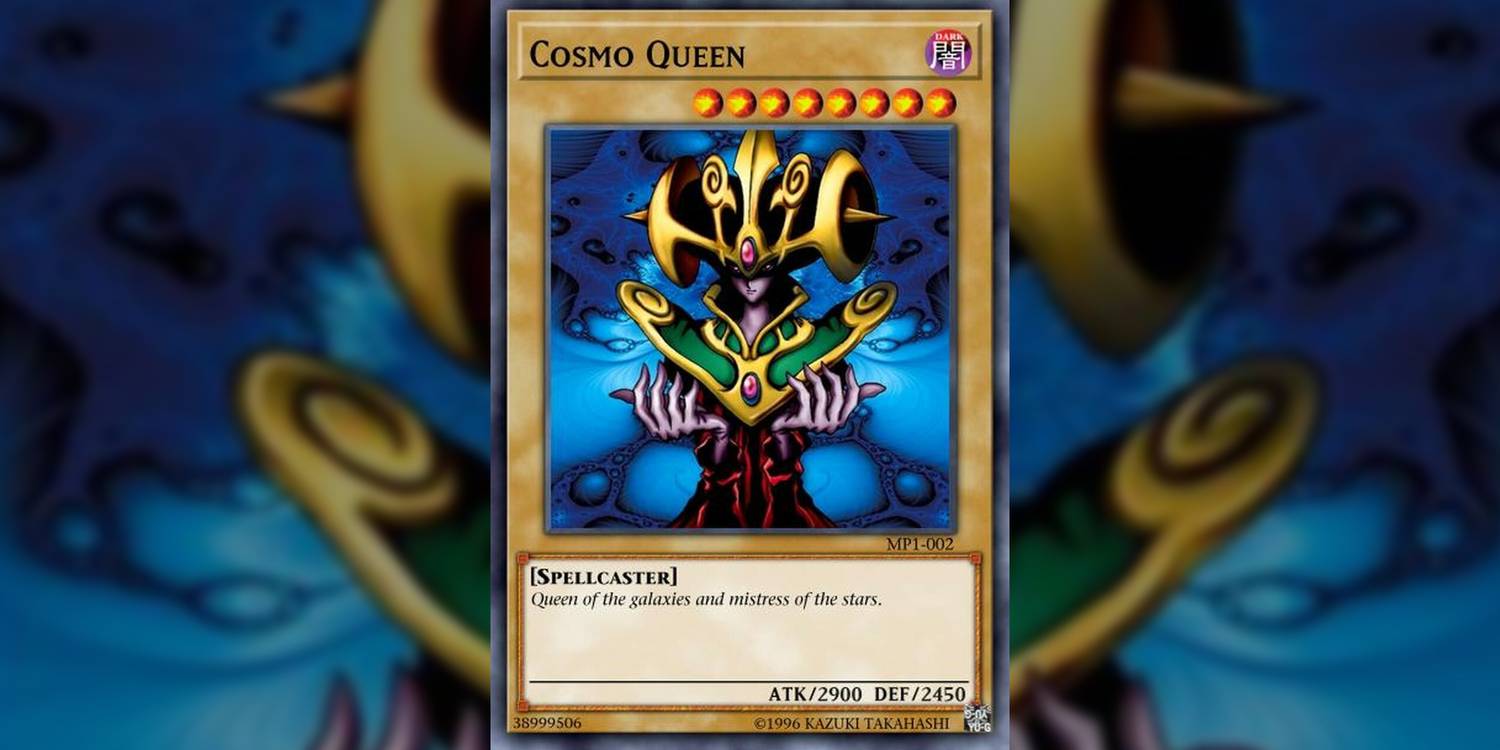 Cosmo Queen is known for being one of the Spellcasters with the highest base attack number. It is a huge Normal Monster card. One would basically call her to use brute force to beat down the competition. She can get even stronger if you equip her with one of the many cards that make Dark monsters stronger.
Getting 2 tributes to stay on the field can be hard if your opponent has a strong monster on the field. Monsters with high defense points can help you get enough tributes to stay on the field long enough to summon Cosmo Queen from your hand.
Blue-Eyes White Dragon – Attack 3000 | Defense 2500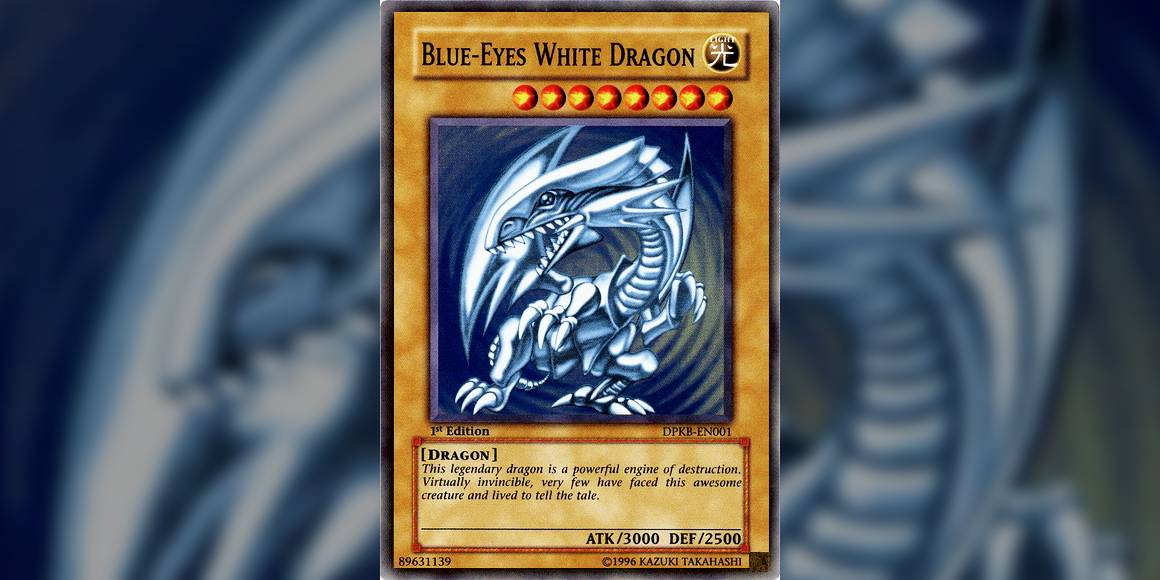 If you've ever been interested in the Yu-Gi-Oh! series at all, you've probably heard of the famous Blue-Eyes White Dragon. It is the biggest Normal Monster in the game, and it is a well-known symbol for causing damage. It is Seto Kaiba's best card, and he uses his 3 Blue Eyes to destroy his opponents as often as he can.
There are a lot of dragon-themed spell cards that can be used to call Blue-Eyes from your deck. So keep an eye out for them as you play the game and open booster boxes.
Blue-Eyes Toon Dragon – Attack 3000 | Defense 2500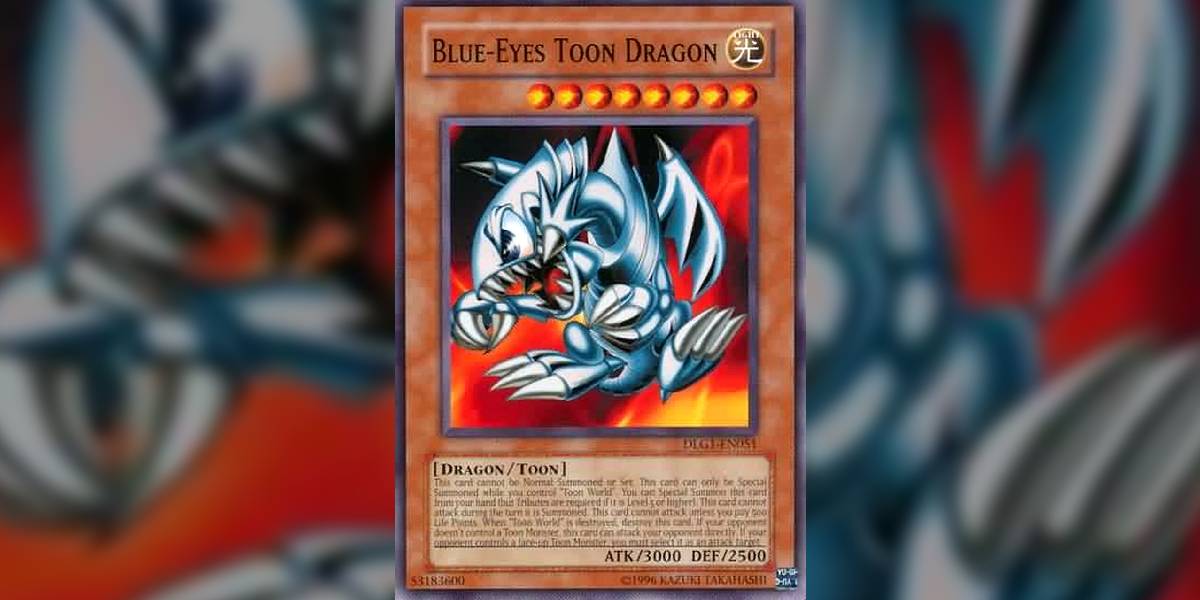 The cartoon version of a Blue-Eyes White Dragon that Toon World has sucked into and changed. It has the same great Attack and Defense as the original Blue-Eyes White Dragon. But now it also has the normal effects of a "Toon" monster. For example, if the opponent doesn't have a Toon monster of their own, it can attack the opponent directly.
Putting Blue-Eyes Toon Dragon in a deck with other Toon monsters would be the best move. Since using multiple Toon monsters can let players steamroll their opponents and directly hurt their Life Points.
Black Luster Soldier – Attack 3000 | Defense 2500
As the card's description says, it has the same fighting power as the powerful Blue-Eyes White Dragon. However, the Black Luster Soldier is a Ritual Monster that can only be called by using the "Black Luster Ritual" Spell card. Like their lore-rival, they don't have any powers. So this card is best used for brute force or maybe even better strategies.
Since Black Magic Ritual is needed to call Black Luster Soldier. Players should add cards to their deck that can help them search their deck and draw spell cards. This will make it so you don't have to wait for half of the cards you need to summon this ritual monster.
Black Skull Dragon – Attack 3200 | Defense 2500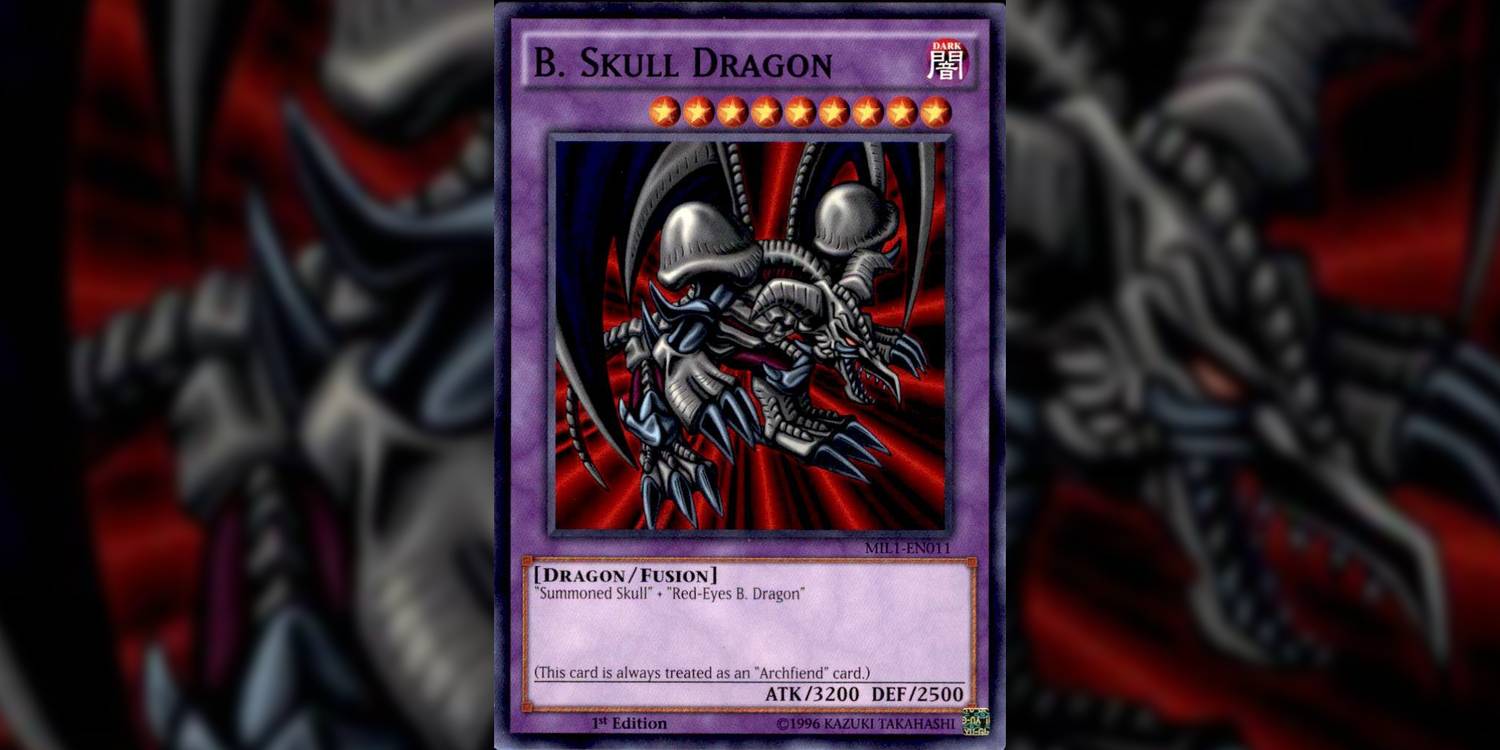 Even without looking at the Black Skull Dragon's stats, you can get an idea of how powerful it is by looking at its fusion parts: one of the best Fiend-type monsters and a Dragon-type beast of darkness that has a long history of being powerful. The 3200 Attack of the Black Skull Dragon is a huge danger to anyone who faces this Fusion monster. It can also be boosted by cards that boost "Archfiends," since this Dark attribute Dragon is one.
Monster-merging decks need spell cards that let monsters join together. However, cards and card effects that let you look through your deck for spell cards can also be very useful.
Gate Guardian – Attack 3750 | Defense 3400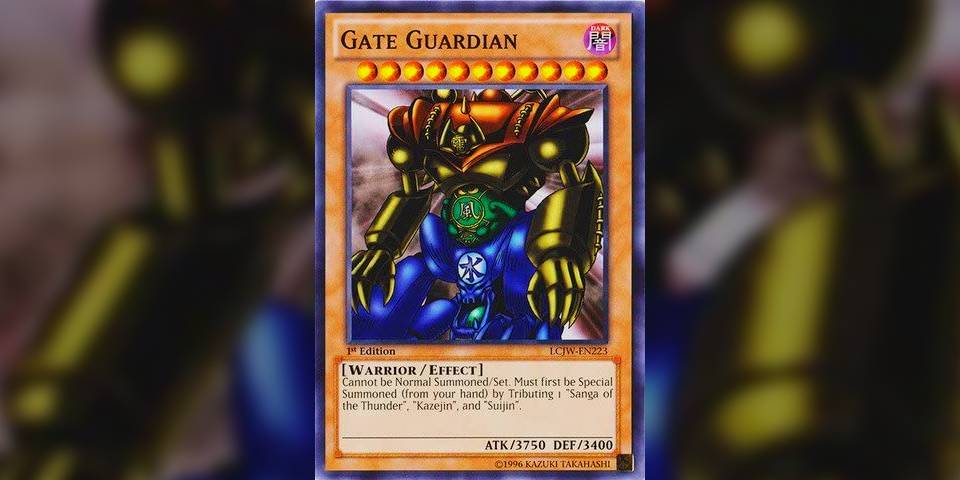 The Gate Guardian is one of the few monsters that is basically a mix of other monsters. But doesn't need a fusion card to come together. Their special summoning cost is actually higher because you have to sacrifice Sanga of the Thunder, Kazejin, and Suijin in order to get this insanely strong Warrior onto the field. Unfortunately, they don't keep the benefits of any of the monsters they're made of. So they're just a powerful beast with high Attack and Defense points who probably won't be too strong.
The hardest part will be getting all 3 tribute monsters onto the field. However, once a duelist has called one of them, it will be easier to get the other two. Since a strong ally on the field makes it harder for the opponent to attack the weaker tribute monsters. Using traps that stop strikes is also a good way to bring monsters over to your side as tribute.
Blue-Eyes Ultimate Dragon – Attack 4500 | Defense 3800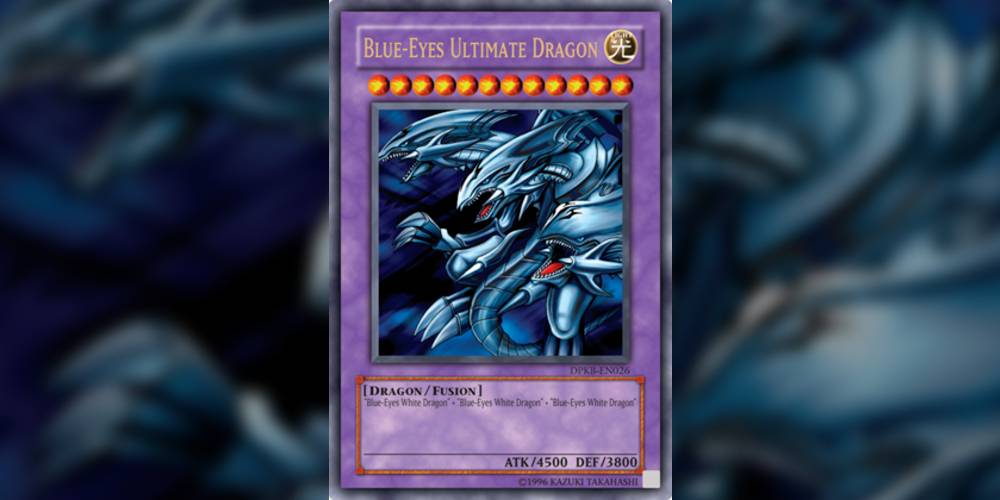 This is a short, sweet statement that says everything. The Blue-Eyes Ultimate Dragon is made up of three Blue-Eyes White Dragons that have been fused together. It has a power that fits with its name, story, and component monsters. It can be hard to find the things you need to call this blindingly destructive beast. But it's always worth it to have this powerful Dragon on your side.
Normal fusion techniques would work to help players summon the Blue-Eyes Ultimate Dragon. However, since it needs 3 specific monster cards, players will have to wait until they draw 3 Blue-Eyes White Dragons and also have a way to fuse them. Since there are so many parts, players should put in cards that let them draw more each turn so that they can get the cards they need faster.
F.G.D. (Five-Headed Dragon) – Attack 5000 | Defense 5000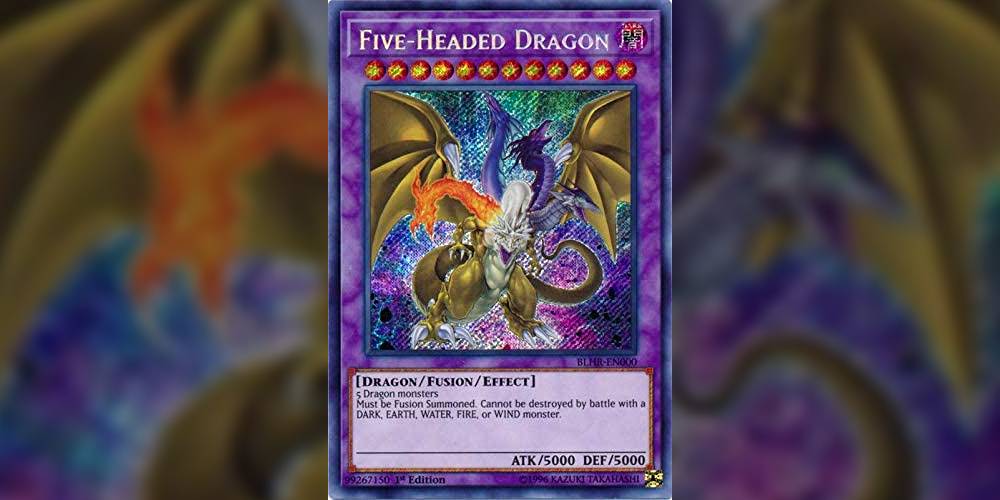 In The Sacred Cards, F.G.D. stands for "Five God Dragon," but the real-world card is called "Five-Headed Dragon" in North America. It is a Dark-type monster with a power that makes it almost impossible to kill. But in Yu-Gi-Oh!, the story is different. The Sacred Cards are a little different. Instead of being Dark-type, they are Divine-type, and they don't have their overpowered effect. This makes them one of the two strongest monsters in Penalty Kick Online in terms of stats, instead of just a broken card that everyone would use all the time.
For players to even think about raising Five-Headed Dragon. They will need a deck with a lot of different dragon-themed cards and a way to combine five monsters at once.
Master Of Dragon Soldier (Dragon Master Knight) – Attack 5000 | Defense 5000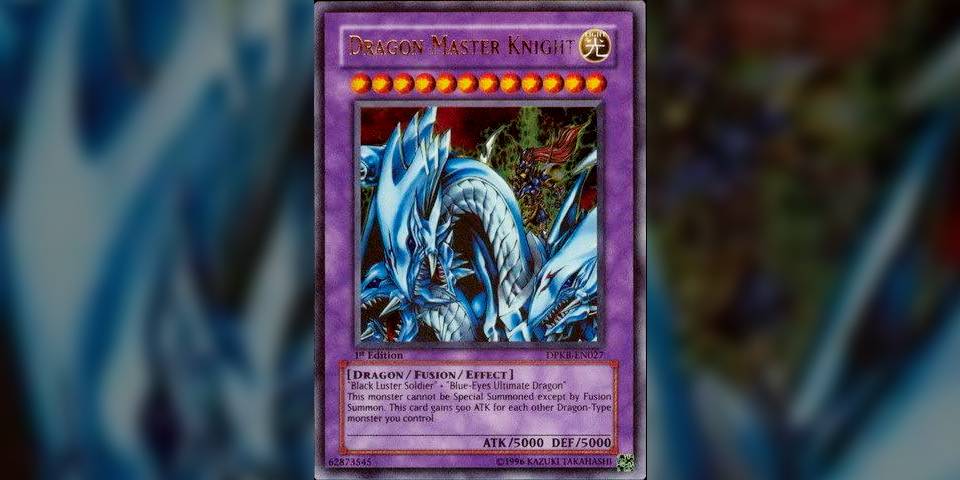 The Dragon Master Knight is just as powerful as F.G.D. It is called Master of Dragon Soldier in The Scared Cards. This Light-type monster was made by fusing Black Luster Soldier and Blue-Eyes Ultimate Dragon. Not only do they have insanely high Attack and Defense. But they also have an effect that adds 500 to their already huge Attack for every other Dragon friend on the field.
In a deck made for this very strong creature, players can use strategies from both the Black Luster Soldier and the Blue-Eyes Ultimate Dragon cards.